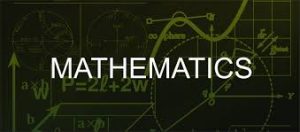 HISTORY
The Department began as the Department of Mathematics and Computer Science in 1992 with specialization options in (i) Mathematics and (ii) Computer Science. In the 1998/1999 session, the two programmes were de-merged into the Department of Mathematics and the sub-department of Computer Science. In 2001 and 2006, the NUC accreditation team accorded full accreditation status to the Department. There is a proposal to run the Department as a several option Department – to wit, Industrial Mathematics, Mathematics, Mathematics with Computer Science, Mathematics with Physics, Mathematics with Statistics, Mathematics with Economics, Mathematics with Banking and Finance, Mathematics with accountancy, etc. This is presently being considered by the curriculum committee of Senate for further action.
Programme Objectives and Philosophy
The objectives of the Department include training up persons who
are self-confident, highly motivated, articulate, result-oriented and creatively driven
have a wide, current and ordered knowledge in the general area of mathematics and are at the cutting edge of development in the area
are sufficiently trained and have acquired the necessary knowledge and skills required to enable them go into productive employment
are able to appreciate the principles and theories of mathematics and consequently able and willing to apply same in tackling the problems of the society
are ready to engage in productive study and/or research in mathematics at high levels
The Philosophy of the Department include training up persons who
are analytically sound and able to reason logically
have acquired the doggedness to face problems squarely and have thus acquired the appropriate skills for such
have a desire to contribute to the progress of society
have a desire for and a commitment to life-long education at the highest level
are ready to excel in any area of endeavour subsequently.
PROJECTIONS
The game-plan is to run a multi-pronged programme in the Department with specialization areas or options in pure and/or Applied Mathematics, Industrial Mathematics (mathematics with computer science, mathematics with economics, mathematics with statistics, mathematics with banking and finance, etc). The following serve as a guide. In addition to the core courses which are sine-qua-non for every student of Mathematics;
a student wishing to major in the Industrial option should choose elective courses from actuarial mathematics, computer science, statistics, (inference, operations research, probability, regression analysis, stochastic analysis, and so on), management science and economic courses;
a student wishing to major in applied option should choose elective courses from mechanics, physics, engineering, geological sciences, and so on;
a student wishing to major in the pure option has a lot of leverage with regard to elective courses but must pay attention to probability theory courses in statistics;
It is expected that any graduate of the Department must have been adequately exposed to computer science courses as to be computer literate. Also such a graduate must have had considerable exposure to statistics.
Service:
It is appreciated that apart from the mathematics major, the bulk of the student we teach in this department are from other departments who need the mathematics course to excel in their own areas. In designing the general courses, the varied needs of students from these various departments have been taken due cognizance of and it is our sincere hope and expectation that these students make the maximum giants from the courses.
Admission Requirements:
Admission through Unified Tertiary Matriculation Examination (UTME).
Candidates should possess at least 5 "O" level credit passes including English language, Mathematics, Physics plus any other two subjects and at least a pass in Chemistry in not more than two sittings in SSCE, WASC, NECO or their approved equivalent examinations (Economics may be accepted in place of physics). Candidates with the above qualification should also attain an acceptable standard in the Unified Tertiary Matriculation Examination (UTME) as may be specified by the University from time to time. A pass in the University Post UTME screening examination is also required.
In addition to UTME requirements candidates should possess at least two "A" level passes in Mathematics and Physics. A pass at the merit level in a relevant diploma programme may be accepted and passes in at least two major subjects in the NCE is also accepted for Direct Entry admission.
Programme/Sub-discipline/Discipline Structure to include period of formal studies in the Universities Industrial training, planned visit and projects:
The Mathematics programme lasts for four years for UTME students. For direct entry students, it is of three year duration. Our students go for Industrial Training of about six months duration starting from the second semester of Third year (300 level). Planned visits to places of Scientific/Industrial interest are slotted in during the course of the normal degree programme.